Product Details
Free Gift
Free gift for every customer:
- Matched screws and bolts kit (Standard Polished)
- Windscreen (Black)
- Heat shield (60cm x 15cm)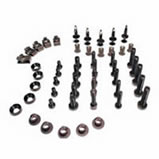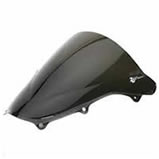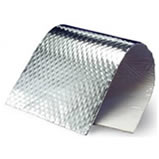 Custom Painting
We can do custom painting and it is free. Our free service includes:
- Change primer color/decals color.
- Remove text/graphic.
- Move text/graphic from one place to another place.
- Add text/graphic model name.
Please note: If you want to add text/graphic with anunpopular brand, please send us pics for reference.
We will take pics to you to confirm after we complete painting, then ship out after you approved.
Customized graphics services are provided. If the customer has specific requirements for color and size, they must give descriptions of how they want it before the start of production. If the customer does not give any specifics after the product has been modified, the customer would have to pay for the change after the products have been finished.
Shipping
Total Time = Processing Time + Shipping Time
- Processing Time: Once you order from us, you can expect your fairing kit to be ready in 7-10 business days.
- Shipping Time: Ocean Freight usually takes 15-20 business days, Air Freight usually takes 4-7 business days. Kits are usually shipped using EMS Shipping Services.
- Tracking Number: You will be given a tracking number for your order which will be trackable from the shipping website.
Packaging
We inspect the fairings to ensure quality before packaging. Fairings are packaged with bubble wrap in shock absorbing cartons. Gap are also filled with bubble wrap. The fairings will arrive to the customer in perfect condition.
Please Note: If there is any part that was scratched or broken in transit, we will resend the new part to you for free.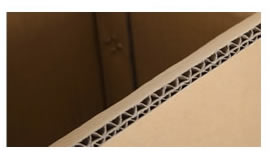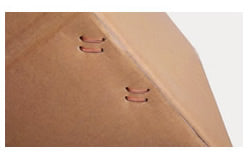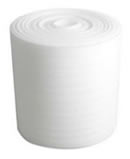 Features
1. ABS Plastic: Our product is made with high quality ABS plastic. This material features excellent impact resistance properties. The high quality ABS plastic makes the fairings resilient and light weight. Although there are many other fairings using ABS plastic as material, our material is from high quality factories. Poor ABS plastic becomes brittle easily and has a short life span.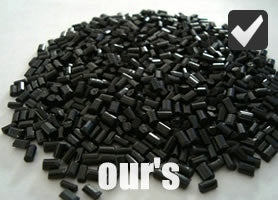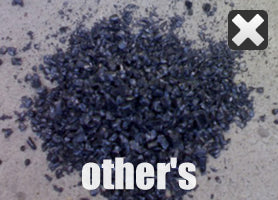 2. Pre-drilled Alignment Holes for a precise fit: Our fairings are pre-drilled with accurate mounting holes for easy installation. If you bought cheap poor quality fairings, even with the mountings holes pre-drilled, you can not install them on your bike properly.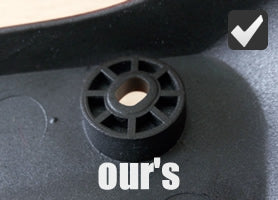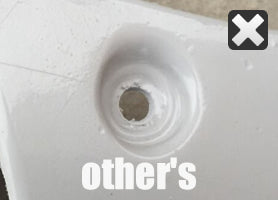 3. Injected mold technology used: We design our fairings using the customized standard machine-made module. With the customized module and injection mold technology, we can guarantee the best precision and quality, which can fit your bike more precisely.
Ours: Installs easily first time.
Other's: Multiple attempts to fit.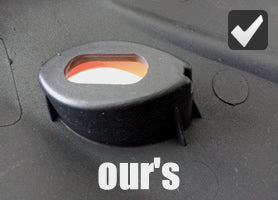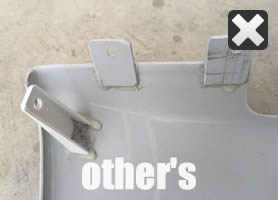 Ours: Have locating plug-ins on the edge.
Other's: No locating plug-ins on the edge.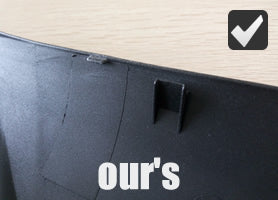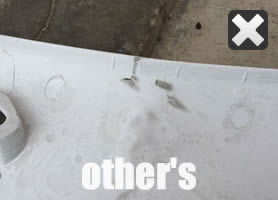 Ours: Have the production code.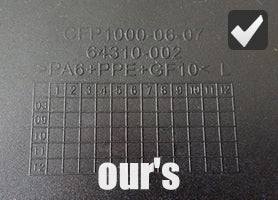 4. Clear Coat: The color coat and decals are covered with a clear coat. The clear coat is one of the most important parts of any fairing. It is required to make the fairing durable, shiny, and glossy. Our clear coat meets or exceeds the standards set by the original manufacturer of your bike.